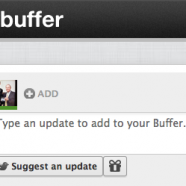 Oct

04
Tags
Related Posts
Share This
Buffer Twitter App
Other than Tweetdeck this is my favorite twitter app, i'm not a fan of automation in twitter as i'm a big believer in twitter being a 2 way conversation, however buffer is tweet automation with a difference. It analyses the best time to send out tweets using data from previous tweets and then schedules them to go out at the time that will get you the most views, clicks and retweets. This is a huge benefit to one of my customers who has a global business so needs to tweet in different timezones. As long as you use this app as a tool to interact & organize your tweets I am happy, if you use it just to spam your followers though I do not agree.
Buffer allows me to schedule up to 10 tweets using their free account (4 per day) which I can then watch for replies in tweetdeck and keep the conversation going.
Not only is it a great app for time saving, scheduling and communicating it also has some great analytics, telling you how many viewers, how many clicks on links and how many re tweets.

If you are looking for an automation app to help save time, get organized and tweet at optimal times, buffer app is for you.
One more thing if you use this link and signup to buffer you get 1 extra free tweet with their free plan.